The Taylor Family Reunion is held every summer in the Blue Ridge Mountains of North Carolina for the descendants of Bill and Winnie Taylor. It has taken place each Labor Day weekend in Ashe County for four and a half decades. The reunion was held at Stephens Memorial Church near West Jefferson, until it was sold in 2001. Since then family members have gathered in various locations in the area for the annual event.
The next reunion is scheduled for Sunday, September 2, 2018 at Ashe Park, in Jefferson, North Carolina. Please direct questions and comments to the Taylor Family Reunion at
taylor@reunion.secondserve.net
.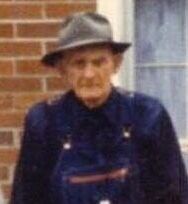 Ed Taylor marks an upcoming tradition
Edward Johnathan Taylor was the first child born to
Winnie Marticia (Hodgson) and William Arthur Taylor
on Sunday, September 1, 1901 in Oval, NC. A day that would become a family tradition of reuniting relatives from around the country some seventy years later. The next day was Labor Day, which had been declared a national holiday just seven years earlier by President Grover Cleveland.
Ed worked at the Sawmill and married Dora Wyatt on Saturday, March 7, 1925. He and Dora farmed, working in the crops and canning food for the coming winter. They lived in a house near the old Taylor cemetery until it burned down in the late 1940's. Ed later built the house where they would spend the rest of their lives. The next Taylor Family Reunion is scheduled on what would be his 112th birthday, the sixth time since it first began some forty years ago.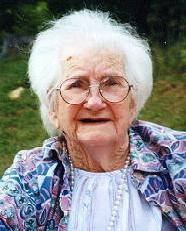 Stella Lewis orgranizes the first reunion
Stella Mae Taylor was born in Oval, North Carolina on Thursday, May 11, 1905. She was the third child and the eldest girl in the Taylor family. Stella married Marion Charles Lewis on Saturday, October 30, 1926. She resided in the area her entire life, farming the land and raising her family. Family was an important part of her life. She helped organize the first Taylor Family Reunion over forty years ago, with the help of her sister Beulah, after learning of interest from a number of relatives.
This web site is dedicated to her memory and the heritage she so dearly loved. Stella attended the reunion every year, from the time it first began in the early 1970's until her death, two weeks after the 2001 Taylor Family Reunion. With a good turnout each year, it looks as though it may continue to bring people together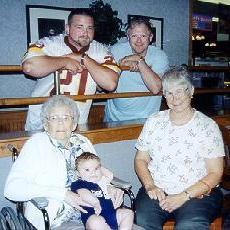 who share a common bond, the surname of "Taylor".
Vandell Phillips enjoys a Great-Great event
Vandell Phillips celebrated her eighty-ninth birthday and the birth of her first Great-Great Grandchild in 2002. Vandell, with her daughter Claudene, Grandson Kevin, Great-Grandson Joe and Great-Great Grandson Cabel make up five generations.
Born Mary Vandell Taylor on Thursday, June 19, 1913 in Ashe County, North Carolina, she is the sixth of eight children in the family. Vandell married Granville Phillips on Saturday, February 17, 1934 and moved to Glen Rock, Pennsylvania in November, 1938 before settling in Lineboro, Maryland in March, 1942. The 2000 Taylor Family Reunion was the last one held at Stephens Memorial Church and the last one attended by Vandell, as she was unable to make the long trip over the last few years of her life.
Georgia Belle Church
Georgia Belle Taylor, the seventh child in the Taylor family was born on Monday, April 24, 1916. She married Earl Church and lived in Maryland for a short time in the early 1940's, before returning to Idlewild. Earl worked at the Kincaid Furniture factory in Lenoir. Georgia Belle worked at Holly Farms, in Wilkesboro for a while, until she had to quit as a result of asthma.